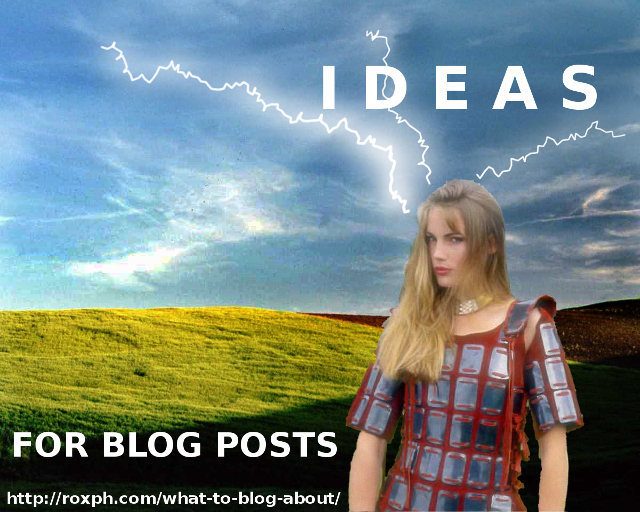 What should be the most simplest of things can often be the hardest as well.
When you are blogging for some time you may run into sort of writers block. You just can't figure out what to blog about. This is a very unsatisfying and unproductive situation.
If I run into that situation I start to browse books, journals and the internet about the niche I am in until I find something intriguing. Next I do my research on that topic and write the article.
Since this method can be quite time consuming I searched the Internet for methods to speed things a bit up. Here's what I found.
List 5 of your passions, 5 problems and 5 fears. Write about those. 5 is a number randomly chosen. It can be as well 7 or 10 or whatever suits you.
Do a brain dump: Write about your chosen topic and keep writing until you have about 1000 words. Don't censor yourself. Just keep writing. If you run out of ideas keep writing the last word until a new idea pops up. When you're done search your text for the nuggets.
Keep a little note book wherever you go. Note ideas when they pop up. Make taking notes an obsession.
Read books, blogposts, comments, article directories. Read as much as you can. To come up with original ideas don't read only within your niche.
Explore new angles to look at topics you've covered already (Blog Post Recycling):
Personal story.
Stories.
Frequently asked questions.
How to …
What if …
Lists.
Common mistakes.
Myth or truth.
News compilation.
Pros and Cons.
Retrospections.
Forecasts.
Checklists.
Biggest Mistakes.
Reviews
Book Reviews
Software reviews
Movie reviews
Do blog posts about your blog
Why did you start.
What were your goals.
What were your experiences.
What mistakes did you make.
What would you do in a different way.
Etc.
Google it
It would be a good idea to Google your topic area once you've settled on something and see what others are writing about it. Use the keyword(s) and search with "blog" on the end as well, and browse. Take hours if necessary. You'll figure out pretty quickly whether:
1. The topic has a high number of blogs or low number
2. Whether, in your opinion, there is room for your blog, in particular if you have a different point of view from others because then your blog would be unique from the others.
The most inventive idea I found was using Google and its tools to find blog post ideas. 4 Ways You Can Use Google To Find New Blog Post Ideas By: Taylor Davies.
Well worth looking at.
Andrew K. Kirk gives 7 Tips:
Use Bottlenose to find trendy subjects in social media.
Write Blog posts from customer questions.
Use tweet chat to find topics people are talking about.
Read blogs in the niche you are in.
Use Quora Questions to find topics people are searching for information on.
Examine Topsy. Topsy is another social search tool. Topsy, allows you to search across various social channels.
Study comments on blogs in your niche to find questions people might have and write a blog post around the answer.
Look on Digg. If something is popular on Digg, then it's usually worth covering. Do not the same exact topic but something similar.
How to Blog Effectively recommends also to look on Delicious for ideas. You might find other valuable tips for blogging there although it seems to address web designers.
Nathalie Sanderson  tipps go in the same direction as above. She ads as good source for blog post ideas RSS feeds and LinkedIn. On LinkedIn search for "Answer" and then for the relevant keyword to your niche. This will bring up a list of questions/answers related to your keyword that are being actively discussed by people in your industry.
Forums are also a source of inspiration. There you can find topics people are discussing currently.
If you have additional ideas to find out what to blog about you are welcome to leave a comment.
Happy blogging.