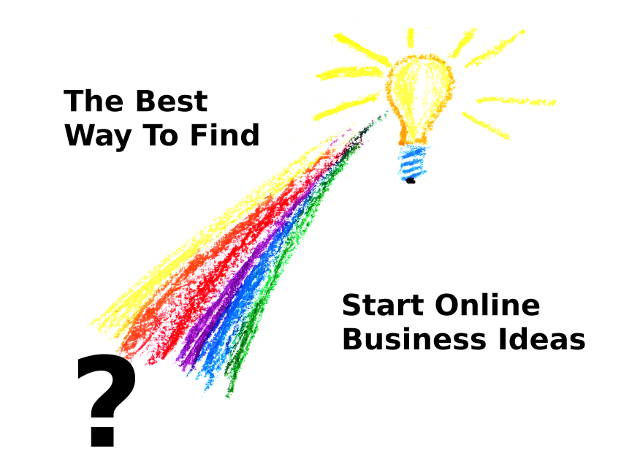 I found the following article and recommend you read it before going into finding your start online business ideas.
Elaine Curry wrote on Ezine Articles::
"Before you even take the first step towards starting an Internet business, long before you start thinking about domain names and design, you should think about your personality type and decide whether starting an Internet business is really the right direction for you to take."
If you decided you have the right mind set then read on.
I looked over quite a few articles concerning start online business ideas. Nearly none of them differentiated between business ideas and marketing strategies. I think though it helps for clarity to do so.
So what do I consider a business idea? A business idea is all about your offer. If it comes to making money you always need to offer something be it products, services, knowledge or manpower people are willing to pay money for.
Marketing strategies on the other hand are about how you make your offer known to potential customers and how to convince them to buy from you (paid advertisement, blogging, social media marketing etc.)
So let's dive into finding start online business ideas.
The first thing you have to decide on is your niche. A niche is part of the market. Let's say for example you are passionate about dogs. "Dogs" is quite a large niche in the field of pets which itself is a niche in the field of animals. Since it is quite a large one we have to break it down. Maybe you are especially interested in dog training and there especially in clicker training. You can break it even further down to clicker training for obedience or to devices for clicker training. You get the idea?
To find start online business ideas it's best to choose something you are passionate about or you are good at. This is because you will encounter hard times and if you are passionate about the subject it's easier to stay the course.
So brainstorm your passions and skills. If you suffer from low self confidence you could ask your spouse and your friends, what they think you are good at.
If you have difficulties finding something then go to amazon and browse through the categories. See what catches your attention, what you are interested in. You can do the same with other online shops as well. Amazon is especially helpful in finding sub niches also. Simply look at the sub categories and sub, sub categories.
Collect a handful of the most interesting ideas you found. These are your start online business ideas.
Next thing to do is finding the right keywords describing business ideas. Do google and google keyword tool searches for each of your ideas. Google keyword tool comes up with a lot of related keyword ideas together with the average monthly searches indicating whether your start online business ideas have a market. Google search shows you how often the keyword you typed in is found on the internet (put your keyword in quotes). At the bottom of the search results page you find more keywords to explore.
To speed this process up I highly recommend to use Market Samurai and/or Micro Niche Finder. For Market Samurai there is a Free Copy for testing or a Full (paid) Version. If you consider becoming a serious marketer these tools are a must.
If you find keywords with reasonable traffic (monthly searches) and low competition (small numbers of exact matches) you can explore your ideas further.
Now it's time to think about what you are going to offer. Let's say you are passionate about wood carving. You could offer your own creations, tools for wood carving, wood to carve. You could offer carving by appointment for other people. Write e books about wood carving or the best wood for carving, methods of wood carving and what not.
If you have a good business idea but don't know where to get for example carving tools to sell then do so as an affiliate for amazon. Or find a whole sale accepting drop shipping. If you decided on information products and don't want to write yourself you could search clickbank and offer those products as an affiliate. Or get some personal label rights (PLR) products, tweak them a bit, give them a new cover and offer those.
Now that you have your business ideas and the things you want to offer the final step is to refine your keywords once more. Ask yourself which keywords describe your offer best and most exactly. Consider the above tips on keywords (most traffic, least competition).
Now you have your start online business ideas with the keywords describing your offers best. Only now it's time to think about how you are going to market your offers. I will cover this subject in future articles.