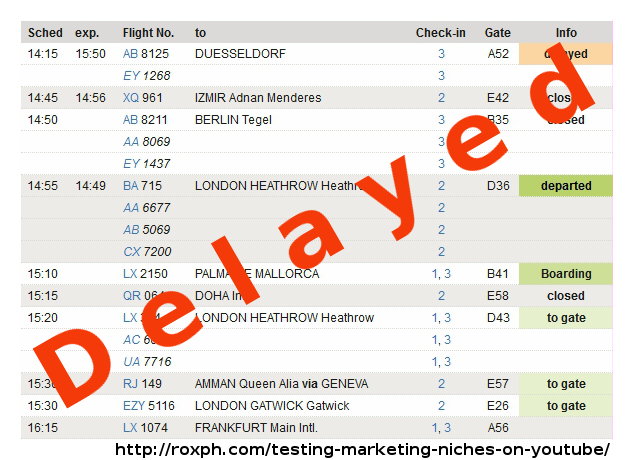 Now I would have been ready to start. But you remember from my former post that the guy from Micro Niche Finder recommended doing some testing of your marketing niches before starting to invest a lot of time not getting any results.
This was on my mind when I came across a more easy less time consuming way to do the testing than writing 9 articles a day for 14 days.
By the way my Ezine Articles directory had been suspended because I had a citation in the article. Obviously they want absolutely no double content. So I couldn't do any article publishing on my main article directory Ezine Articles anyway.
The Testing method consists of publishing two or three videos per niche on youtube. Then you have to observe which ones get more views over a certain time span if any at all. You could have the videos created on fiverr or do it yourself.
Profitable niches should have at least about 100 views a month on average per video.
I decided to do a couple of videos myself and have some done by somebody on fiverr. As marketing niches I chose "how to make dog food", "how to make dog treats" and "how to give a blow job". Well don't blame me for the last one but on clickbank I found "Jack's Bj Lessons" which looked good to market according to CBSurge.
I browsed the internet for pictures and videos I could use. Having some stuff ready I went to work on the videos. Then I put three videos per niche on youtube. One of them was linking directly to the affiliate offer on Clickbank. The other two videos linked to the first one.
What happened next was incredible. The videos on blow jobs had 12, 17 and 44 views in less than 24 hours. From the 6 videos on dog food only one single video had one single view within the same time span.
So what I should do was clear. Build a website around "how to give a blow job". But I decided to postpone the start a bit more and explore this video testing a bit further.
I asked myself: Is there really such a high need and a high scarcity for advice on blow jobs? Or did I get those views from people looking only for free dirty stuff not really being interested in perfecting their skills. If that was the case I wouldn't get buyers to my site and all the promotional work would be still in vain. After two weeks I should have had over 1000 views and if I didn't make one single sale I'd know and stay away from blow jobs.
In the mean time I'd look for other marketing niches getting Youtube views.