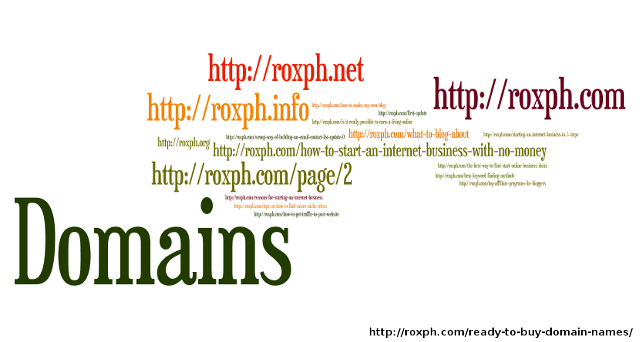 If you now what niche you want to enter and you have your keywords ready it's time to buy domain names or one domain for the matter. A domain is the name of the address of your website. You might ask yourself how to choose a suitable domain name. The domain name is the part yourdomain.com in the web address or URL (Uniform Resource Locator) http://yourdomain.com. I'll give some recommendations here.
If you don't want your domain for business purposes you can go for a free one on WordPress or Blogger for example. Then your domain name will be yourdomain.wordpress.com or yourdomain.blogspot.com.
While there's nothing wrong with free domains I highly recommend buying one if you plan to use it for business purposes. The term buying is used although it's more a leasing or renting since you have to pay a yearly fee of around 10 $.
Whatever you decide to go for you have to come up with a convenient name.
Should you use your main keyword as your domain name? That depends on what you want to do with that domain. If the website is about a topic like e.g. dog training then it makes sense to try dog-training although I don't think that's free anymore. You could try a combination with your name for example garry-dog-training. If the domain name matches exactly your keyword then it's called an exact match domain. For SEO purposes that's the best. Next best is if your domain name contains your main keyword.
If you want to establish yourself an authority and brand either yourself or your company go for your own or the companies name.
The full domain name has an extension like .com. When ordering your domain you are asked for that extension. The best ones are com, org, net and info. If the domain name you're targeting is taken for all of those extensions try another one.
But if your site is just for local purposes, Australia for example, you can take .com.au as well. Then people will know that you're running an Australian site.
Where can you get domains
There are plenty of sites where you can buy domains. I use Namecheap. They are easy to use and as the name says they are cheap. The costs depend on name and extension. At Namecheap the costs start at about 4 $ a year. If you have a good idea for a domain name head over to Namecheap and buy it. Sell it later or use it for yourself.
What else can you do with domain names?
You can buy some you think are good ones for your own purposes or to sell them later. There is no urge to use them. Put them on stock or offer them for sale. The older a domain is the better for SEO purposes. For example on Namecheap you can buy dog-training-tutorial.com for 2277 $ (January 2. 2013). You see it can be lucrative to deal with domains.
Register a free Namecheap account. Type in the domain name you've chosen and see whether it is free. Then go ahead and buy domain names.