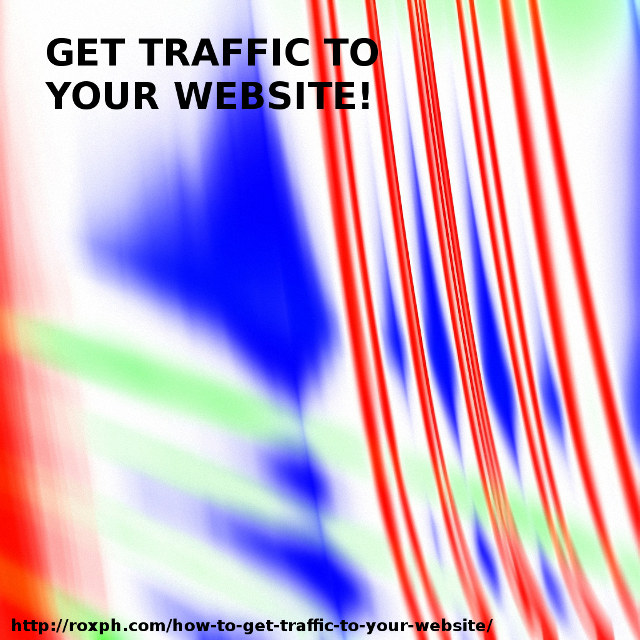 Let's face it: Without traffic there's no point in having web presence. After having established your website be it a blog, static site or just an affiliate link the next question is how to get traffic to your website.
If you look on the internet you can find very different traffic driving methods which can be grouped to e.g. general, short term and long term methods.
General Tips
Amongst general tips (for blogs) are to blog regularly (2 to 3) times a week, to build a band of trust with your readers and to be unique and original. Then your content should be well organized and easy to read. Break the content up in short paragraphs. Try to brand yourself. Establish yourself as an expert in your niche.  See Saad Naeem, Guidelines To Get Repeat Traffic On Your Blog .
Short Term Methods
The fastest ways of getting traffic to your website are paid for services. The best known is probably Google's AdWords Pay Per Click (PPC) System. I'd discourage using AdWords though since Google is quite expensive and you can loose easily a lot of money. Microsoft Ads (Yahoo / Bing) are cheaper though to start with are still quite risky.
There are other methods like Contextual Ad Networks (e.g. Direct CPV ). Those are still quite cheap to use and depending on the network drive very targeted traffic which is only good. Together with a software like Auto Mass Traffic Generation they can do real magic.
The other short term method is Ad Swapping. You place an ad with link to your website, blog or affiliate link. Then you get credits for clicking on ads of other participants and can use those to get clicks on your ad. Traffic Swarm is such a service.
I came across another one: Perpetual Traffic Generator. Here's a review.
With ad swapping and that Perpetual Traffic Generator you have to keep one thing in mind. They might send a lot of traffic but it's untargeted. This leads to very short view times of your pages and very high bounce rates. Google might think your site is of no use to anybody and you loose your chance on getting organic traffic later. And in the end you are looking for lots of organic traffic from the search engines.
Long Term Methods
No matter what methods you are going into you should have your SEO (Search Engine Optimization) in place. That means you have a couple of good (high search volume, low competition) targeted keywords you are aiming at. Have the main keyword in your title tag, your description and your keyword tag as well as in your text.
On static websites you have to ad these tags in the source code using HTML. In blogs you can use the SEO by Yost plugin.
There are lots of methods to get the word out: Article-, blogpost-, press release-, forum-, video-, and social media marketing. Social media marketing breaks down to facebook, twitter, pinterest and others. There are long lists of methods on the net:
Tips for blog posts
Blogging- and marketing tips
10 marketing tips
Traffic tips
Getting more traffic
65 Methods to drive traffic
Conclusion
It's one thing to have your site online but it's a different thing to have a successful site online. Traffic is the first ingredient for a successful site. Use the methods given in this post as well as the referred sites and keep track of how they are doing for you. Not everything works the same for everyone and for every site.
Keep experimenting and think strategically. Use the method you are most acquainted with first until you can judge the result. Than go to the next method and so on.
Consider what you want from every step. Do you want backlinks to your site to get more traffic from the search engines than leave comments on high authority sites. Do you want immediate traffic than leave comments on high traffic low comments sites or pay for traffic. Are you aiming at very long term traffic do article marketing and video marketing.
Do not just do what other people are telling you. Think for yourself what could be the best and fastest way for you to get traffic to YOUR website. This post and the recommended sites give you a lot of methods to choose from.
I wish you all the success you deserve.