After having decided on the niche I want to enter it's now time to do my keyword research.
To find out what keywords my potential competitors are using I did a search on Google for "dog food secrets" and looked at the source code. Besides of having the keyword in their title and description they didn't have it in their key word tag which is quite astonishing. A lot of those sites didn't even have a keyword tag.
Next I went back to Ezinearticles and did the same there and found the following: dog food secrets, dog food secrets review, dog food , dog food recall, Dog Food Secrets – Confidential Dog Food Report, dog food secrets reviews, food secrets review, Andrew Wilson, dog foods, best dog foods, top dog food, dry dog foods, top dog foods.
No surprises so far. So I went back to Google Keyword Tool and did a search for just "dog food". From a look over the results I got the impression this was too broad so I went for "top dog food". That looked better and I decided to go with that keyword to Market Samurai (MS). I like to use MS because they use the results from Google Keyword Tool and have a broad variety of analysis tools. Doing all by hand would take ages.
So I let search MS for keyword suggestions from Google keyword tool and analysed them with the golden rules filter. I ended up with 122 filtered keywords from 801. I went through them manually and removed everything not relevant to my offer (dog food secrets).  I had 51 keywords left. I put those in a Excel file and now it looked like this:

The last column reads Webfire. That's a service with a huge amount of tools in them. They claim everything is good which is green.
Since MS doesn't return exact phrase counts from Google Search I took the keyword list I had now to Micro Niche Finder and started a search. With this I extended my table with this very valuable information: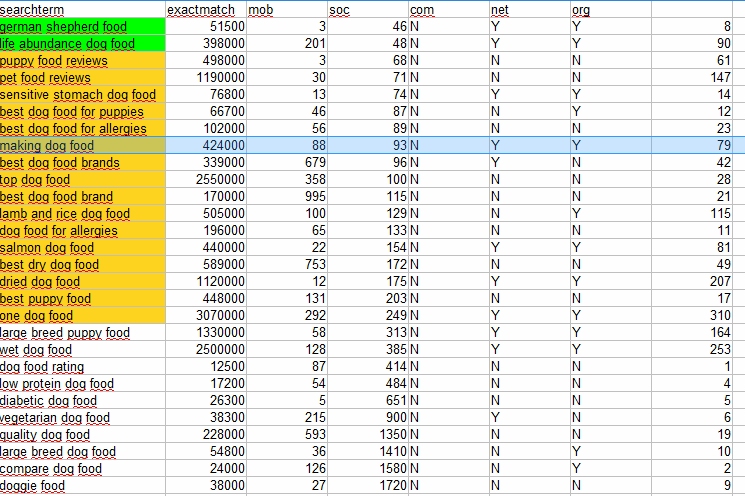 The last column here is the exact phrase count (what Google Search returns when searched for the keyword put in quotes) divided by the broad search count from Google Keyword Tool.
I sorted the table for strength of competition from Micro Niche Finder.
Then I went down the search term column and gathered every keyword I could use for my offer in any way with regard to articles I would be going to write. I got this list:
german shepherd food, puppy food reviews, pet food reviews, sensitive stomach dog food, best dog food for puppies, best dog food for allergies, making dog food, top dog food, lamb and rice dog food, dog food for allergies, best dry dog food, dried dog food, best puppy food
Up to now the research gave me a good overview over the keywords I possibly could go for. For my main keyword "top dog food" or "making dog food" were in question. I took those two keywords and analysed them with MS again for the top ten sites:


When looking at those sites I noticed that "top dog food" sites were mainly informative. So I decided to go for "making dog food".
During this process it came to my mind to do research on "healthy dog food" and "natural dog food" as well to come up with more key words for the articles I would be going to write.
To be continued.