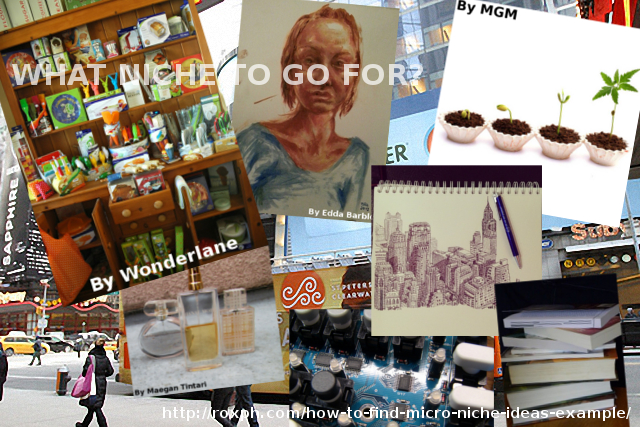 After 10 days I had 420 views for the best video on blow jobs. But as I suspected already it's not the right target audience that watches that video. I got a click through rate of about 5% which h is even for Youtube very low. And the clicks I got didn't make me one single sale. To be honest I was glad to quit that somewhat suspicious niche.
But what niche should I go for then. I searched for methods to do a quick assessment of potential marketing niches. I found that Google has a lot of useful tools to do so. But first things first. To start I had to have a list of potential niches.
I did a brainstorming for myself to find everything I was interested in or was wondering about. Believe it or not but I came up with 51 niche ideas.
I chose 10 of them which I was interested in most or which seemed the most promising ones. Actually in the end I had a list of 11 possible niches to assess.
I chose a seed keyword for each niche describing it best. On a scale of 1 to 5 I gauged my personal interest. Then I looked for trends on Google Trends. On Google Trends you are able to compare a couple of niches against each other. I marked the relative popularity by colours. Light green for the most popular red for the least popular ones.
I looket in the Google Contextual Tool for the contextual search bids and in the Traffic Estimator Tool for estimated daily clicks and impressions.
From Google Keyword Tool I got the cost per click (CPC) and monthly search volume.
Then I did Goole searches to see how many advertisers were bidding on the keywords.
Up to now I did keyword research for "dog training" only. I ended up with two keywords: "how to train a dog" and "how to train my dog".
This was the time to put 2 to 3 videos on youtube for each of those keywords to see whether I could get some traffic for them. And then I'd be going to do the same in the other promising niches.
By the way from the table can be seen that the healthy dog food niche is not one to go for. And indeed my videos on dog treats had 3 views. The videos on dog food had just 1 after 10 days. So, neither of my so far tested niches had passed.
Just a personal note at the end: You might wonder why all of this takes so much time. I think I am the type of person who does theoretical research before jumping in. Remember: I am a Chemist. And I think I have to develop a feel for the topic to be successful. So I took a lot of time to educate myself.
There are a lot of people going another way, especially in the USA. They jump in right away learning from their mistakes and failures. Nothing wrong with that, but I am just not that type of guy. I perfectly realize that this American way would be the faster one. It's completely up to each individual which route he or she takes to find profitable marketing niches.